ith the October 1997 release of Imaginary Day - their twelfth album - and first for Warner Bros.Records, the Pat Metheny Group introduces nine striking new pieces to a body of work that has gained them seven Grammy awards (Metheny has won two more for other projects), numerous other honors, international critical plaudits, and a global following which eagerly awaits each new CD and local concert appearance.
From the first dramatic, audacious, almost Oriental-inspired tones of the title track to the culmination of this aural dreamscape "The Awakening," it is readily apparent that the pmg has been inspired by new places and faces, real and envisioned, and responded by adding altogether new sounds to an already prismatic musical palette.

Thus, Imaginary Day (done at Right Track Recording, New York, in the spring of 1997) a consistently surprising, beautifully realized, suite-like entity that is, as Metheny says, "an extended journey into a musical zone that lets you imagine your own scenario and stories, and emotions to go with them."
"As time has gone on," he continues, "I've begun to understand that one of the things the group is good at is offering a sort of high 'trip quotient.' On this album we tried to go more deeply into that. We really decided we'd do a record that was about extended journeys, and even try to give the whole record that feeling of a story. You put on this cd and, I hope, it takes you some place, and maybe you'll even be a little bit different when it's over. All my favorite albums, whether they're jazz, pop, classical, or whatever, that's what they have in common."

To be sure, there are elements of Imaginary Day that share common ground with parts of previous Metheny Group recordings, befitting an ensemble whose four-man core (guitarist Metheny, keyboardist Lyle Mays, bassist Steve Rodby, and drummer Paul Wertico) is celebrating its fifteenth anniversary, and whose composers (Metheny and Mays) have collaborated for twenty years. And as on two earlier albums, the quartet is joined by vocalists/multi-instrumentalists Mark Ledford and David Blamires.
The 63-plus minutes on Imaginary Day is, in the pmg tradition, at once as clear as autumnal air, as intriguingly complex as a Don DeLillo novel, and as contemporary as the latest in stringed instrument technology (more about which anon) - which Metheny uses to telling effect throughout. And the writing is, as always, melodic, evocative, exacting, and geared to the group's characteristically clean ensembles. But ultimately, Metheny says, "every tune succeeds or fails by the improvisation that happens within it. To me, that more than anything else still links what we do inevitably to the word 'jazz.' Regardless of how much attention is paid to those compositional details, the music still functions as a vehicle for improvisation."

This time around, however, many of Metheny's solos are on new instruments especially crafted for him by the Toronto-based luthier Linda Manzer, with whom he has worked closely for years. Add a complement of four renowned veteran percussionists (Mino Cinelu, David Samuels, Glen Velez, and Don Alias) and a fresh compositional tack taken by the Metheny-Mays team, and one has several distinct answers to that most frequently posed interviewer question: "How is this album different from the others?"
Yet another answer to that question can be found as soon as one picks up the cd case- a novel jacket and insert design written almost entirely in code.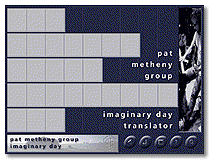 Available below is an interactive translator for part of Imaginary Day. The Translator works just like a typewriter, and is available exclusively here at the Pat Metheny Group Listener Network. Download the applicable version for your computer- Windows 3.1, Windows 95, Macintosh 040 or PowerPC. Enjoy!