On November 19th, the Pat Metheny Group releases their newest recording, featuring the core members of the band: Pat Metheny (guitars), Lyle Mays (keyboards), Steve Rodby (bass) and Paul Wertico (drums & percussion), the first pure 24-bit digital multitrack recording (no part recorded in analog format).




Pat elaborates:
"This recording was made in May of 1996 right after the final leg of a year-long tour that once again took us all around the world. The idea was to make an album that featured the core of the band playing music that was either organized and assembled very quickly and spontaneously (with little or no rehearsal), or improvised entirely. We also decided to use only instruments that were either acoustic in nature or very close to it (as we got going, a few exceptions were made to this, especially in the guitar department). No particular reason for doing this, it just seemed like it would be a fun and interesting thing to do at this point in the group's continuing musical journey."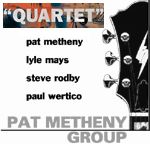 Lyle and Pat worked together during the short period between the end of the Pat Metheny Group "We Live Here" South America tour and the first day of rehearsal putting tunes together in New York, each writing some and collabortaing on others. This recording reflects the Pat Metheny Group's goal to emplore music in a broad sense, rather than focus on a particular stylistic idiom; this committment has allowed the band to work together on many different levels. In time, the group has taken advantage of these opportunities to develop a vocabulary that they share, to explore possibilities unique to being musicians in this particular time.

Pat adds: "Essentially, from the beginning, we have tried to find our own way- our thing has always been to try to play the music we love in a way that has some kind of resonance with things we've seen and heard and the places we've been. Here's another chapter in our story."

"QUARTET" was produced by Pat and recorded at New York City's Right Track Studio.


---