Music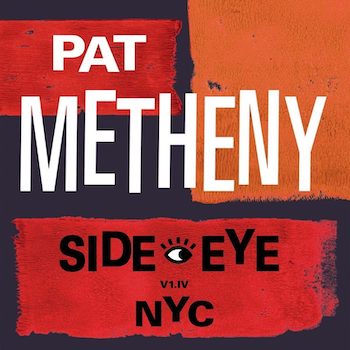 Tracks
It Starts When We Disappear

Better Days Ahead

Timeline

Bright Size Life

Lodger

Sirabhorn

Turnaround

Zenith Blue
2021

Side-Eye NYC (V1.IV)
Label:

BMG-Modern Recordings
Musicians:

Pat Metheny, James Francies, Marcus Gilmore

Unlike almost any other modern musician, Pat Metheny remains uniquely unpredictable. A new Metheny record could be almost anything as the only musician to have won twelve of his twenty Grammy awards in twelve different categories. His recent recording Road To The Sun caused a sensation in the classical music world for its intricate and emotionally satisfying chamber music compositions. At the same time, its immediate predecessor From This Place was Downbeat magazine's Jazz Record of the Year as an expansive and timeless large-scale work.

So the announcement of a new Metheny record is always a noteworthy event. Once again, a surprise is in store for the legions of fans Metheny has collected across the globe.

On September 10th, 2021 Modern Recordings will release PAT METHENY SIDE-EYE - NYC, an exciting, vibrant and energized new platform for Metheny, showcased in a recording that features 30 minutes of intricate new music set alongside a few unexpected and creative re-workings of Metheny classics re-imagined.

So, what is Side-Eye?

Pat explains, "I wanted to create an ongoing platform to host a rotating cast of the newer generations of musicians who have particularly caught my interest along the way. From my earliest days in Kansas City onward, I was the beneficiary of so many older musicians hiring me, which gave me a chance to develop through the prism of their experiences and the particular demands of what their music implied."

He continues, "I have been feeling like I wanted to have a specific setting to focus on some of the younger NYC musicians I have enjoyed recently where there seems to be some kind of kinship happening. About every ten or twelve years, there seems to be a crop of players coming along who find a certain resonance with whatever it is that my thing seems to represent to them. The last time that happened was the Josh Redman, Christian McBride, Brad Mehldau, Antonio Sanchez generation, and it seems to be happening again now."

"Just as it was back then, I have been hearing from these newer players on the scene when they get to town who get in touch to talk about the influence that some of my records and tunes have had on them. When there is time, I always try to invite them up to my house to do some playing. Very often, it's a natural and organic thing for me to play with them; they have literally grown up listening to the recordings and playing those compositions from their beginnings, just as I did with many of the folks that I eventually wound up playing with too."

"My good friend, the great drummer Eric Harland called me up one day to tell me about James Francies and how he wanted to get together with me. I suggested we get a bass player and have a session. Eric said, "You don't need a bass player with James!". That was an incredible day, and from that, the idea of building a first edition of the concept around James and his amazing talent was formed."

Metheny has given this band concept the name Side-Eye and hopes that it might become a rotating group of musicians who could come and go in different combinations. So far, there have been four iterations, hence the V.1-IV sub-heading on the record.

"With James signed up, I wanted to dive into the amazing pool of talented drummers that the scene enjoys at the moment. Eric himself is incredible, and for a bunch of the first performances we did, I used Anwar Marshall, one of the best new Philly guys around. After that, Nate Smith did a tour in Japan with James and me that was fantastic, then on this recording, Marcus Gilmore is featured, who I have known since he was about 12 years old as the grandson of my number-one hero in life, the great Roy Haynes. For the next round of performances, I have invited Joe Dyson to join us. Joe is an incredible drummer, originally from New Orleans, who will bring a whole other set of possibilities in the future."

As a musician who has presented himself onstage in such a wide range of settings, how does Metheny decide how to identify one aspect of his output from the next? Explains Metheny "Even from quite early on, I often had several different bands going on. That was almost unheard of back in the '70s and '80s - most people had their one band, and that was it. In fact, it may even be I got too good at branding these different things with their own distinctive names and mini-cultures. Really everything I do is "the Pat Metheny Group" no matter who in the band at the time or what I wind up calling it. It is all the same thing to me, and each setting I put together as a bandleader operates in the same basic way with me doing my best to put together and write music for the best combination of people I can to present whatever I am interested in at the time."

Pat continues, "In recent years, with the newer kinds of musicians that are around these days, it is more likely that I can put together groups of musicians where nothing is mutually exclusive to anything else, The kinds of players that will fit into the profile of the Side-Eye thing will certainly have to have that kind of range. The constant factor for me as a leader from the beginning, regardless of who I invite along the way, is to draw on the strengths of the players I have with me at the time and to encourage everyone to do their best."

On this recording, more than half of the program is devoted to new music. Metheny comments, "In some ways, this record is a bit like one of my earlier records, Travels, in that it happened to be recorded live, but also introduces a bunch of new music and new concepts."

The record begins with a new nearly fourteen-minute long composition called "It Starts When We Disappear", another in a long line of Metheny pieces that go far beyond the simple head/solo/head format into a complex extrapolation of the material while featuring jaw dropping solos from both Metheny and Francies.

"At its core, this is a kind of "organ trio"; but an organ-trio for the 21st century. James has the capacity to play bass lines with his left hand that rivals the great Jack McDuff, my favorite "bass player" of all the classic organ guys. But additionally, I can play bass from guitar now too. I wanted to push the whole idea of a keyboard/guitar/drums trio. I was interested to see what would happen if I got some of my orchestrionic instruments involved too, a whole other dimension of challenge to add to the equation. Those instruments are featured on the opening and closing tracks."

But clearly, along the way, everything else is in there too, including a look a the organ trio in its most traditional way on the track "Timeline", a piece Metheny wrote for a Michael Brecker album that featured both Metheny and the great drummer, Elvin Jones. "I had never done a version of that tune on my own, and with this band, it seemed like the perfect time."

And on the track "Lodger," we hear a version of Metheny that has not appeared since his recording of John Zorn's TAP, or maybe even going back to The Roots of Coincidence - Metheny at his most rock. "I always let the tune decide how it wants to get played. When I wrote that one, it was actually on an acoustic guitar late at night. But in rehearsal, it demanded to get treated more in this way. The piece is dedicated to and inspired by a great friend of mine and one of my favorite guitar players, Adam Rogers."

With Pat Metheny, you simply never know what is coming next. But among the many things that make this ever-changing artist so special is the astoundingly consistent level of commitment and quality that he brings to everything he does.

Whether searingly electric, powerfully intense or deeply contemplative, highly composed or totally improvised, or even with some new-fangled contraption of his own design, there is always that unmistakable Metheny sensibility at work that has stood at the forefront of jazz for what is now approaching five decades. The Side-Eye series is the latest chapter in his continually unfolding story.
Tracks
It Starts When We Disappear

Better Days Ahead

Timeline

Bright Size Life

Lodger

Sirabhorn

Turnaround

Zenith Blue