News
The Many Faces Of KIN (←→)
10.26.2014
Own a piece of music history - 20 limited-edition fine art photographs on metallic photo-finish paper mounted on acrylic plexiglass of the stages of Pat Metheny's KIN (←→) artwork by Stephen Doyle and his team at Doyle Partners.
"The Many Faces of KIN" is an original series of 20 unique images, each 24"x24", limited to a fixed number of 5 prints of each image that captures the evolution of the album cover art as it developed.
The artwork is something that should be seen in person to really appreciate. This museum quality piece is perfect for serious or amateur collectors and institutions.
These Limited-editions prints will be accompanied by a hand-signed Certificate of Authenticity, specifying image title, size, author, limited edition number and print detail. Each certificate has a unique, serialized numbered hologram watermark. A second, identically numbered hologram is applied on the back of the artwork. Also, a gallery ready mounting system is attached to the back of the art with the wall mounting piece included.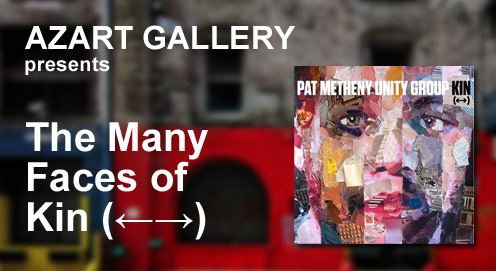 THE STORY BEHIND THE ART:
"We are all connected by our humanity and histories," says Stephen Doyle, art director for "KIN". We wanted to create a faceted face, representing all races, and collage was the perfect medium to assemble an iconic image of "everyman" composed of color and culture."
Many of Pat Metheny's earlier covers have involved collages and with this record, he wanted a return to that kind of imagery. "From the very beginning of my career, the album artwork of each project has an important place in the overall identity of every recording," says Metheny. "I have always felt a kind of resonance with an aesthetic that imposes the juxtaposition of differing colors and textures in close proximity, since to me that is often a core element of the music that I have made."
Each of these 20 unique images represents the "steps" along the way in the creation of this amazing album cover. Doyle partners ultimately generated more than 200 images for consideration for a final cover all different from the others. This is a chance to keep one of these "steps" as something of your very own.

• December 2nd - 6th, 2014 •
In celebration of the Pat Metheny Unity Group's tour culminating performances at the Blue Note, Azart Gallery is offering a final chance to own a unique piece of music history. There are a remaining handfull of limited-edition prints still available (on metallic photo paper mounted on acrylic) of the different stages of Pat Metheny's KIN(←→) artwork by Stephen Doyle and his team at Doyle Partners. These pieces will be on display at the gallery to coincide with Group's return to New York after a 150 city world tour.
Upon purchase you will get a chance to meet Pat and get the artwork autographed & personalized .
Also on view at the gallery new artworks by Josh George (Day trip/ Tokyo day trip)
FREE holiday standard shipping on all items for sale at the gallery for a limited time.
Azart Gallery
Terminal Store Building
617 West 27 Street
New York, NY 10001
Comments
Be the first to join the discussion.
You must have an account and be logged in to post comments: Log in or join.